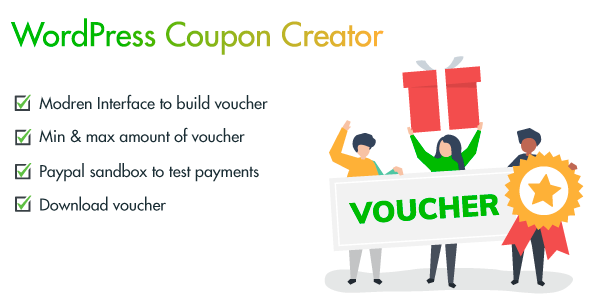 WordPress Gift Voucher Plugin by XfinitySoft allows your website visitors to buy exciting gift vouchers from your website to send them as presents to their loved ones. By installing this plugin, you can create new vouchers and add them to any website page using shortcodes. The WordPress Gift Voucher Plugin offers a ton of settings and configuration options so you can create any kind of voucher you desire for a lot of different use cases.
Feature packed and powerful, WordPress Gift Voucher Plugin lets you
Create different voucher templates and designs with different settings and options
Create two different types of vouchers: fixed and custom
Add vouchers to any webpage using a shortcode
Use dynamic shortcodes on voucher templates to allow users to personalize the vouchers sent
Let users buy vouchers from your website by integrating with payment gateways like PayPal and Stripe or via bank transfer
Enable it on WooCommerce and allow voucher recipients to use voucher codes on your WooCommerce store
Customize email notifications sent to the sender and recipient when a voucher is bought and sent to someone
Why Get the WordPress Gift Voucher Plugin?
If your customers cherish your products or services, adding gift vouchers on your website will allow you to tap into the billion-dollar gift retailing market and take your sales up the roof.
By adding the WordPress Gift Voucher Plugin, you can easily allow your website visitors to buy customizable vouchers from your website and send them directly to whoever they want to send. This makes gift-giving one less of a chore!
Key Features of WordPress Gift Voucher Plugin
Here are the key features of WP Voucher Creator Plugin
Fixed and Custom Price Voucher Types
WordPress Gift Voucher Plugin lets you create two types of vouchers: fixed or custom. Fixed Vouchers allow the admin to set the price from the backend while custom vouchers allow users to enter their own price when buying a voucher.
Voucher Template Designs
The plugin allows admin to design different voucher templates. A drag and drop canvas allows admin to create any kind of design they want. Set the canvas size, choose background from image or color, set image or color, insert images on the canvas and resize them, insert text fields, barcode, and dynamic placeholders. All these options allow for a ton of possibilities when designing the voucher template.
Add Voucher Expiry Time
Add Voucher expiry dates when creating vouchers to persuade the recipients to redeem them within that time period. This allows for clear sales forecasting and allows you to plan sales strategies for upselling and cross-selling.
Integration with Payment Gateways
Let your users buy vouchers directly from your website by integrating the vouchers with a payment gateways of your choice. The plugin offers a couple of payment options: Paypal, stripe, and bank transfer. By integrating it with sandbox accounts, you can easily test if the plugin is working on your site and accepting payments as expected.
Personalized Email Notifications
The WordPress Gift Voucher Plugin lets you customize email notification with dynamic placeholder tags. This allows the admin to personalize email notifications sent.
Send Voucher by Email or Post
The Gift Voucher WordPress plugin lets your website users send vouchers through email or post. For email, simply entering the receiver's email address will send the voucher to the recipient. To send by post, admin can add as many shipping methods as they want and allow the user to choose one when buying a voucher to send by post.
Option to Add Number of Adults and Number of Children in Voucher
The plugin lets the admin enable options to add number of adults and/or number of children in the voucher buying interface. This is especially useful for vouchers for theme parks, airlines, hotels, restaurants, etc.
Change Logs
2.0.4 – 28 Nov 2022

-Remove: Support for base64 images
-Add: Support for images to save in the WordPress upload directory

2.0.3 – 18 Nov 2022

-Fix: Issue related to WooCommerce 

2.0.2 – 10 Nov 2022

 -Add: Support for woocommerce (to use voucher code on woocommerce cart)
-Add: Support for used vouchers, the remaining balance for the vouchers
-Fix: issues with the popup
-Add: Send voucher from the backend

2.0.1 – 22 OCT, 2022

-Fix: All console errors are fixed (stripe issue, PayPal issue)
-Fix: PDF generator issue fixed(if gd extension enable then pdf generator otherwise not)
-Fix: All scripts only load on the shortcode page

1.5.3 & 1.5.4 – 25 Feb, 2022

-Fix: Some Minor Bugs related translation 

1.5.2 – 07 Dec, 2021

-Fix: Bigger image on popup
-Fix: Translation issue in vouchers
-Add: License Delete option 

1.5.1 – 15 Nov, 2021

-Fix: Fade issue of vouchers modal

1.5.0 – 15 Nov, 2021

-Exclude: Bootstrap from the front-end
-Fix: Minor Bugs related to vouchers modal
-Fix: Paypal issue with the woocommerce
-Add: Preview Feature without shortcodes

1.2.0 – 06 July, 2021

- Fix: bugs from backend settings
- Add: New UI for backend template design
- Add: New UI for Front End Design ( Improved ) 
- Add: New Four Font Type

1.1.2 – 21 May, 2021

- Fix: Ajax call back error fixed. 
- Fix: All console warning have been fixed.

1.0.0 – 6 March, 2020

- initial release