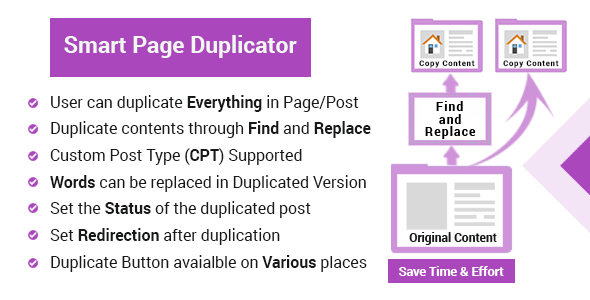 WordPress Page Duplicator duplicate selected page/post with find and replace functionality.
Most of the time Word-press Users needs to create a page/post which is slightly different than existing page/post. Instead of copying whole content and images which requires effort and time , WordPress Page Duplicator comes to rescue to duplicate page/post with just one click to save effort and time.
WordPress Page Duplicator just not duplicate content BUT also provide options to change content during duplication.
Most interesting and handy option of this plug-in is FIND AND REPLACE, which Word-press Users can use during duplication. With FIND and REPLACE option, Users can find any specific words in content and image titles to change it within same window with just one click.
Forget about COPY & PASTE , switching tabs to copy content back and fourth.
Custom Post Types, Custom Taxonomies and Custom Fields are also supported.
WordPress Page Duplicator also facilitate user to select which data of selected page/post you want to duplicate as well as which taxonomies and custom fields you want to duplicate.
In short you can duplicate your post/page in your desired way.

Features
Here are Main features of WordPress Page Duplicator plugin:
Allows which content user want to duplicate i.e Title, Content, Taxonomies, Feature Image, Meta Values
Allows which taxonomies user want to duplicate i.e All, Categories, Tags etc
Allows which meta values user want to duplicate i.e all or specific
Allows to add prefix and suffix with duplicated post title – remain
Allows More than one word to replace in duplicated version
Allows which areas user want to replace each word i.e title, slug, content, meta values
Enable Case Sensitive option to have find and replace functionality or not for each word separately
Easy to use and Friendly GUI
Enable the duplicate functionality for any CUSTOM POST TYPE (CPT).
Duplicate Button is available on various position like in edit post screen , post action rows in posts table and in admin bar on front side
Set which roles will be able to use plugin's functionality
Set the status of the duplicated post i.e Draft or Original
Set the duplicate button text
set where you want to redirect after duplication i.e duplicated post edit screen, duplicated post front side or no where
Use Cases
1 – Create Duplicate of page/post within second to save time and effort

2 – User own a site in which all the posts contents are same except some specific words then WordPress Page Duplicator comes to use to duplicate existing post/page. During duplication user just need to mention the words which he want to replace with new words

3- WordPress Page Duplicator can be used by article writers because most of the time article writers are using same template and contents with minor update to create new post

4- WordPress Page Duplicator is necessary for Recipe websites

5- Real Estate websites must have WordPress Page Duplicator to save their time and effort
6- Bloggers can use WordPress Page Duplicator to speed up their work .
It depends upon your requirements how you will use this plug-in. On users valuable feedback we will make it more better in latest versions.
Change Logs
1.2.3 & 1.2.4 – 18 Oct, 2022

-Add: Bulk post duplicate option 
-Add: Comma separated search replace option
-Fix: Elementor page duplicate issue 

1.2.2 – 28 July, 2022

- Add: Support for Elementor 

1.2.1 – 04 Jan, 2022

- Add: Support For PHP 8

1.2.1 – 20 Nov, 2021

-Fix: Minor bugs in backend  
-Add: License Verficaion for codecanyon
-Add: Support Pages in the plugin

1.1.0 – 12 Jan, 2019

- Compatibility with WordPress 5.0
- Compatibility with Gutenberg
- Add Actions and filters for customization

1.0.0 – 14 June, 2018

- Initial Release