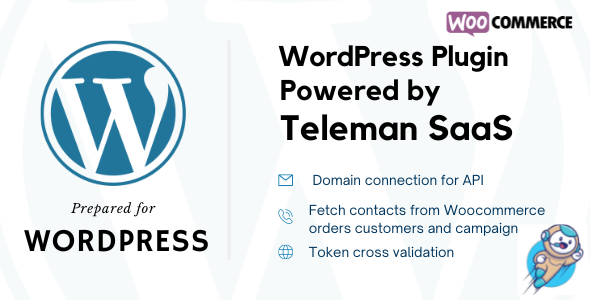 For this item you must have Teleman –
Telemarketing & VoIP Service SaaS Application. With this plugin you can connect your WordPress woocommerce
store to Teleman
–
Telemarketing & VoIP Service SaaS Application. This addon
will not work if you do not have both applications.
This add-on will help to fetch to contacts from WordPress WooCommerce store.Also, you can start
a campaign from the plugin dashboard.
Teleman – Telemarketing & VoIP Service Application is a SaaS-ready script, that allows you to make calls to your customers
to promote your products. There is an IVR dialer where you can live call your customers and sell products. This is a
twilio based voice calling application so you need a twilio account to start your telemarketing service. You can
send voice messages from text files and pre-recorded audio files. You can start a campaign by adding new contacts to a group.
1. The administrator can set up multiple Twilio provider accounts.
2. Users can make calls by using these providers, they just need to fill in some required details.
3. As you provide Twilio provider accounts to your users, you can charge them in multiple ways.
With this plugin, you can fetch woocommerce order billing info users' names & contact numbers. Also, you can start the campaign directly from the plugin dashboard.
Plugin Requirements
WordPress Version: 5.0+

WooCommerce Version: 3.6.2+

NodeJS Version: 16.18.0(LTS)

Teleman Version: 1.16.0+

Installation Steps
Step 1
Unzip the file you downloaded from Codecanyon, It includes one zip file. You only need to upload the "zip" file to your additional plugins.
Step 2
Activate the plugin. It will create some database columns.
Step 3
Now go to your Teleman application, create a token, and put the token into the plugin API TOKEN input. provider the Teleman installed URL and admin email address.
DEMO
WordPress CRM Demo : Demo Link
Admin Login
Username : admin
Password : 12345678
Teleman Demo Link : Demo Link
Teleman Documentation: Documentation Link
Admin Login
Username : admin@mail.com
Password : 12345678
Customer Login
Username : customer@mail.com
Password : 12345678
Agent Login
Username : admin_agent@mail.com
Password : 12345678