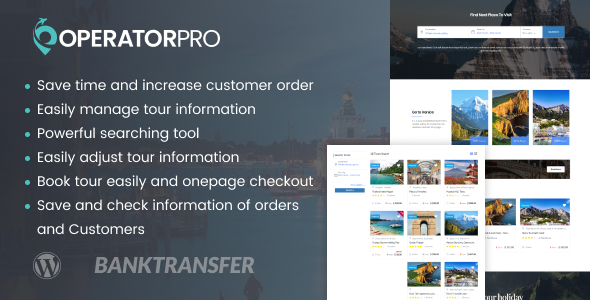 Tour Operator Pro Plugin– is an easy-to-use and powerful operating tool for travel agencies and tour companies. It gives you full control of the information such as destination, itineraries, prices, facilities,..etc and an automatic booking on your tour, saving your time and money. Moreover, supports a wide range of services provided by businesses, individuals that provide online tour booking through websites. With this plugin, you can sale tours quickly, easily and much more efficiently. Please feel free to contact us at project@netbaseteam.com to discuss further.
WHY USE THIS PRODUCT – PRODUCT BENEFIT
WordPress Tour Operator Pro is a very useful tool if you in, own or run a tourism business. Using Tour Operator Pro, your customer can easily find, choose and book the tour just with a few clicks. Thanks to a variety of excellent features and ancillary admin panel, you can easily build and run a good maintenance business website.
Tour Operator Pro will bring many huge benefits as below:
For customer: With Tour Operator Pro plugin, your customers can easily book tour to anywhere from your website. They can search, view all your tour information and choose the tour that best suits them. No need for any call or meeting for the appointment.
For shop owner: With Tour Operator Pro plugin, you can easily operate your touring business, receive a booking or reach out and provide tour information for your customer. Our product integrates with your website to give your customers a nice booking experience. So, if you are looking for a plugin that can help you sell tours, this product might be the best.
HOW TO IT WORK FOR CLIENT
Your customer can easily use Tour Operator Pro with steps below:
Step 1: Go to the website: Firstly, customers go to your website.
Step 2: Choose tour: Customers choose the tour that is right for them. They can search for tours by choosing destinations, activities or simply choose the tour on your tour list.
Step 3: Find out details: After clicking on the tour, your customer will see all the details you put on it. And if they interest, with only 1 click, they will be able to book the tour.
Step 4: User info and Payment: Customers enter their information. In addition, customers choose a payment option for the tour in this step.
Step 5: Booking confirmation: Finally, customers confirm their reservation information.
HOW IT WORKS FOR SHOP OWNER
Using WP Booking Pro plugin is very easy by following 3 main steps as below:
Step 1. Install plugin: Plugins => Add New => Upload Plugin. Choose a file of this plugin to upload and install the file.
Step 2. Active plugin: After installing the plugin, you change the status of the plugin to a working state so you can use it.
Step 3. Add information: Add tour information and pictures as you want for your customer
MAIN FEATURE
1. Save time and increase customer orders : Searching tour online gives customers more freedom. They can review all information to choose the tour that suits them best – all without having to call. What's more, you can manage your online booking 24/7 easily and quickly.
2. Tour operator pro: This feature helps you to see and manage your tour website. List out monthly, yearly profits, receiving customer's order, booking, saving customer information,…
3. Powerful searching tool: Using Tour Operator Pro, your customers will easily find a tour fit their need with a helpful searching tool that can find tours base on destinations, type of tour or simply the activities they want to do.
4. Adjust tour information: In the backend page, you can add or delete information and pictures about the tour. This information will appear to your customer on your website
5. Save and check information of orders and Customers: Your customer information and order will be saved in backend page
6. Itinerary information: Knowing exactly what to do is a very important factor that determined whether your customer will buy your tour or not. With this feature, you can add a specific itinerary for each day on the tour so your customers will have a clear view of what will happen on their tour.
7. Add discount: You can add or delete discounts to attract customer
8. Easily Booking: After seeing the tour details, your customer can book the tour with just one click to book and one page to fill their information before checkout
9. Unlimited travel packages: There is no limitation on the number of trips. You can add a trip, trip gallery, description, regular price, sales price, duration,…
10.Trip Facts: You can create trips 'Facts' such as group size, facilities, accommodation, the best time to visit and so on, and then add the trip facts to different trips.
11. Activities Page: You can create different activities page such as hiking, sightseeing tours, mountain biking, skiing and so on. Then you can connect different trips to these activities. For example, if a customer visits a Hiking page, they will able to see all the trips that include hiking.
OTHER ITEMS
1. Low cost and convenience: You can provide services for 24 hours with low-cost convenience.
2. Cross browsers: This plugin is compatible with all browsers.
3. Fast and simple: For both you and your customer
Thank you for reading. If you have any question please leave your feedback here project@cmsmart.net. And now, you can purchase this item in here: Check Out
Version 1.0.0 (17 April 2020)
- Released