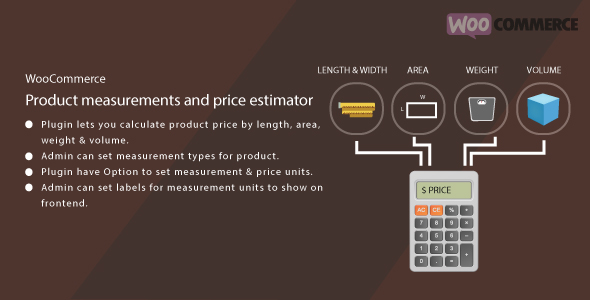 Woocommerce Measurement Price Estimator is the plugin for calculating product price based on product's dimensions, area, volume, and weight. This plugin allows you to sell liquids, wallpapers, flooring products based on their measurements. Admin can set each measurement's unit, pricing unit, and labels. This plugin has multiple features listed below:
Woocommerce Measurement Price Estimator Features:
WooCommerce Measurement Plugin has the option to set measurement types (Area, Area (WxL), Volume, Volume (WxLxH), Weight).
Option to set fixed width and input for length from the user
Admin can enable or disable product pricing per unit showing on front-end.
Administrator can set Pricing unit and label which will show on front-end.
Administrator can set measurement units for products like meter, kg, foot, sq. ft. etc.
Admin can also set labels for measurements which will show on front-end.