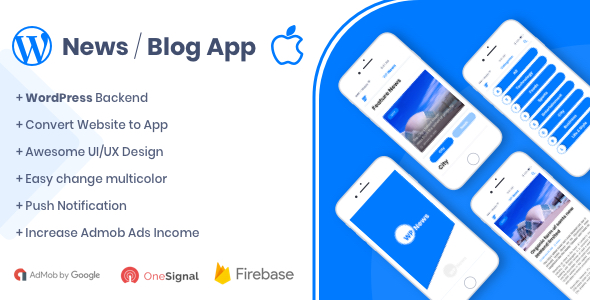 WP News App for WordPress website owner and freelancer. you can buy app source code and setup app for your news and blog website. It will help to boost content and ads visibilities.
You can spread news, advertisement and earn more recurring income if you will integrate Admob. We have designed award-winning User Interface and User Experience app design for the latest era.
List of features included in WP News Blog iOS App.
Live TV Module
Push Notifications Firebase and One signal
Multi Colour App Theme
Award Winner UI/UX Design
Well Optimized Code
Best Layout and Readable News
Optimized for Tablets
Admob Ads Integration (Banner & Interstitial)
Documentation
App Demo
WordPress Website Demo
Online Support
Note:
Release Note


Version 2.0.1 - (26 Apr 2022)
- UI updates for iOS 15 support
- Built with XCode 13


We don't provide the WordPress theme for this app.
You can use any WordPress theme.
News data comes from WordPress Posts and App menu display from WordPress Categories
We have used official WordPress WP REST API
City Directory iOS Native App Download