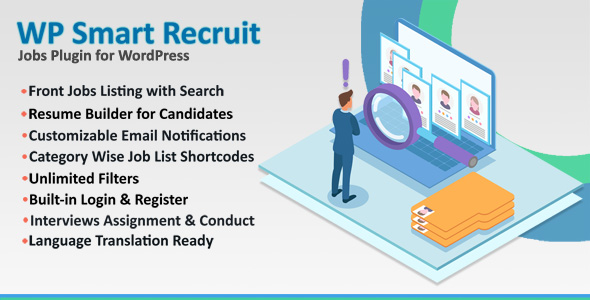 WP Smart Recruit is an advance recruitment and applicant tracking plugin for WordPress designed specially to create your site's job or career pages. It's unique features allows you to have a convenience in the recruitment process thus selecting the perfect applicant for your job needs. It's provided with an easy to use admin panel with all integrated settings you might need for the hiring process. You can download resumes and interview results for all or a set of selected candidates by applying different filters. Several different shortcodes gives you the flexibility to create job pages as per your needs. Customizing the layout is pretty easy with the built in css editor directly in the admin interface without having to touch code. Also, you can customize email notifications as per your needs.
Demo Details
Admin Area : https://wpsr.code-wand.com/wp-admin
Email : hr@wpsr.com
Pass : 60703310
Applicant Area : https://wpsr.code-wand.com
Email : brad@wpsr.com
Pass : 60703310
Installation & Setup
Instructions are included in documentation for installation and complete usage of the system with step by step pictorial guides. For installation simply just zip the "plugin" folder and upload in the WordPress plugins "Upload" section. Activate the plugin and use it as per your convenience.
Features
Jobs management
Unlimited Filters for jobs
Category specific short codes for job list and titles
Sidebar filters
Customize email notifications
Job Application list with extensive controls.
Notes & Statuses for applications.
User roles and permissions.
Translation ready (POT file included) for all phrases.
Interviews creation, assignment and conduct with pdf feature
Resume builder for candidates
Resume Search in admin
Front end login & Register features
Update History
Version 1.1 – 27th Dec, 2021

Added : Google reCaptcha in direct apply form with settings in admin.
Added : Styling for pdf resume download.
Fixed : Translation phrases additions wherever left.
Fixed : Css admin interface state maintain issue.
Fixed : Last date and salary display issue when not assigned.
Fixed : Application list sort issue.
Fixed : Email template update issue.