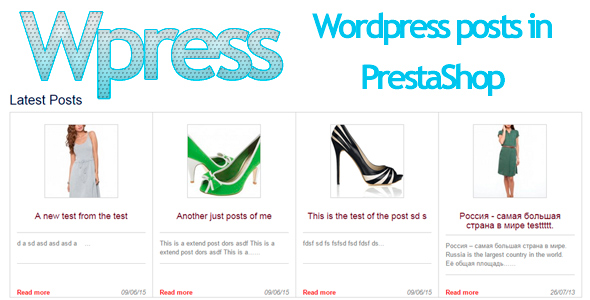 Wpress let you show your latest WordPress post or pages in your Prestashop store.
The module is configured easily. You should only specify the data connection to the database containing the WordPress blog or set the url of the wp-load.php, and the module will do the rest. 
Wpress be displayed on the default home page as well as in columns (or footer), showing the number of posts you want, and with a link to the curren post or page in a separate Prestashop section. Becouse Wpress use the ID of post or pages, you can create links to any WordPress page or post with the url of the module!!!
Now the module support Lightbox for images or galleries, and responsive support to show the content in any device.

You can show posts in grid or list mode, and show thumbnails of the posts/pages too.

In addition, the module will allow you to set text colors, borders, target of the links, cut the content of the posts, link the post to WordPress or Prestashop, the order of the posts, title options and scroll block column, and much more!
Features:
Database configuration/File configuration
Configuration of colors, width, number of post, order, show full content, etc.
Cross browser
Grid or list mode
Show media content like galleries or videos
Show thumbnails
Use lightbox




v2.5 – Lightbox+responsive+option to open links in new window
v2.6 – Thumbnails + grid display in home
v3.0 – Compatible PS 1.7, added category list
v4.0 = Added carousel for home posts
v5.0 = Compatible PS8

Source