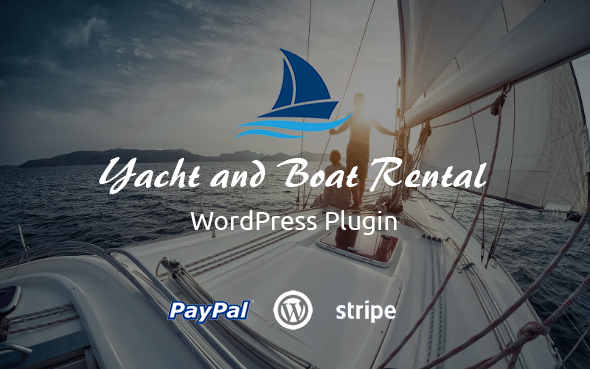 Yacht and Boat Rental is a powerful online reservation WordPress plugin which provides all the tools and features needed to run your yacht and boat rental business. It provides a simple, step-by-step booking process with online payments, e-mail notification.
This plugin has a user-friendly Booking system features that allow visitors to easily search yacht and boat rental services. It is fully integrated with a nicely designed reservation and booking interface where visitors can easily check their desired Boat and Yacht services without any technical help. It will help control the visitor's search availability of Boat and Yacht services
Yacht and Boat
You can define an unlimited number of yacht and boat. Set yatch, boat infromation, manufacture, model, gallery image. Assign a yacht and boat to the location, enter number of seats, number of cabin, single bed, double bed. Enter the type of yatch or boat, fuel policy, captain/crew .
Defined price of rental per quater day, per hafl day, full day or weekly, select number of payments (Full charge at purchase time or two times). You can even specify the dates in which the yatch or boat is not available.
Attach document about yacht and boat if have
Amenities
You can define an unlimited amenities via setting panel like navigation & safety group (Autopilot, radar, GPS,…), entertainment group(Wifi, Television, DVD, …), sport equipment group (Kaya, Fishing rod, Jet-ski,…), … and then you can assign them to individual yacht and boat.
Rental period ranger, Price Period ranger
You can use it to set your boat's availability, set custom prices for specific dates. It has four type: price for weekly, price for full day (1 -> 6 days), price for half day (4 hours), price for quarter day(2 hours). With each price type, you can defined price period ranger via date time ranger picker
Responsive layout
Yacht and Boat Rental is fully responsive which means each and every plugin element adapts perfectly for any screen size.
Bookings
Displays a list of all submitted orders (bookings) in the system. You can filter or search booking by date, boat name, customer's email, payment type, booking status.
Set status, add/edit payment history for bookings
Email notification
Email is used to send notice after the customer has successfully booked the boat. Yacht and Boat Rental allow defined send mail via default or SMTP host.
You can define the list of recipients and select the sender's email account from which the messages will be sent with info about new bookings
Woocommerce Intergrated
Yacht and Boat Rental provide a option integreted with Woocommerce, with this option you can use cart, checkout and payment method of Woocommerce
Setting Panel
Yacht and Boat Rental provide a setting panel where you can customize or defined slug, filter, single page, payment, email notification
Key Features
Compatible with WPML, Supporting Multi-Language Websites
Fully responsive clean design
Powerful Admin Panel
Integrated with Paypal, Stripe Payment Gateways
Intergrated with Woocommerce
Email Templates configuration
Google Map, Mapbox available with Active Locations
Configurable price and payment schedules and days-off for each yatch and boat
Compatible with WPBakery Page Builder
Ready for translation
Cross Browser Support
Valid HTML5 Code
Videos
Version: 3.0 (25-Oct-2022)
Add option to change length unit

Version: 2.8 (10-May-2022)

Fixed send mail with WooCommerce Checkout

Version: 2.7 (28-Apr-2021)

Fixed deposit amount for two times payment
Fixed deposit amount for WooCommerce payment

Version: 2.6 (22-Apr-2021)

Fix booking blocked when stripe card declined

Version: 2.5 (19-Apr-2021)

Fix redirect to success page after checkout
Add option include deposit to total

Version: 2.4 (17-Jan-2021)

Fix get boat's price

Version: 2.3 (02-Dec-2021)

Add time schedule
Add coupon feature