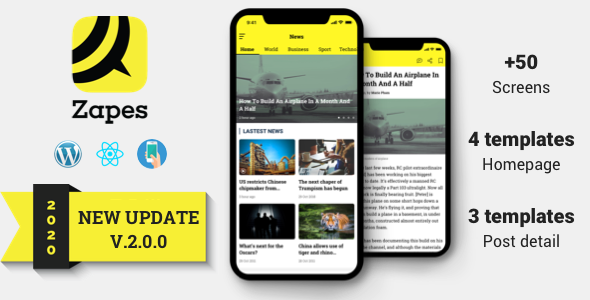 LATEST VERSION V2.2.5 - Mar 01, 2021
* [HOT FIX] Bookmark.
* Fix other bugs and Optimize code.


This software contains an amazing 50 professional features, created by master engineers and designers in the field of content management that will help you:

Self-management of the entire process of posting articles and interacting with readers quickly …

Not having to waste time transmitting content, suffering hard to find organized management.

Save hundreds of hours of coding effort and spend more time on your product.
* * Proudly to bring great support and 5 STARS item rating

THIS IS YOUR CHOISE IF?
No one knows your product excels and doesn't communicate quickly on social media.

Failed to update real-time content, informing daily readers instantly.

If you don't have the time, can't manage, can't communicate directly with readers.
Whenever you want comprehensive support for your readers, you have to manage and control up to 100% of the content on mobile web news apps.
WHO IS THIS SOFTWARE RIGHT FOR?
If programming directly affects your life, work, career, you will definitely need this software suite:
Content managers on the internet often have to work with news and update information daily.

Readers should read and receive useful daily news alerts daily without having to open the web application directly.

Entrepreneurs and content experts want a professional new information management system to raise capital, present ideas to convince investors and introduce their businesses.
FEATURES
Zapes provides you a solution to engage and maintain a relationship with your customers through true mobile native app that is easy to control and simple to manage.
Multi-Media: With Zapes, you can take your customers through all multimedia such as video, photo gallery, blog listing, YouTube smoothly.
Cross-Platform: Works well on iOS and Android.
Multi-Layout type: Grid, Card, Left, Right thumb you can change to difference cool blog detail news via backend WordPress Admin
Easy Setup and Customize: We provide fully user guide to help you can install manually by yourself
Push notification – via Firebase and auto notification when publish new post is supported, now supported also via OneSignal
Compatible with any WordPress site: use the default Rest API from WordPress to synchronize both sides from Website to Mobile app, you will have your own admin dashboard so you can use it to control your app.
Integrate AdMob and start earning money from your app
Multi-Languages – support to switch to any languages and easy to add your own Languages, also Right To Left (RTL) languages.
Other features: Bookmark, search,…


CHANGELOG
V2.2.4 - Nov 27, 2020
* Fix bug comment.
* Fix Share module.
* Fix video/gallery/categories screens.
* Fix bugs and Optimize code.

V2.2.3 - Nov 25, 2020
* Add Code Push Lib (https://github.com/microsoft/react-native-code-push)
* Change Ui item post. 
* Fix bugs and Optimize code.

V2.2.2 - Nov 18, 2020
* Fix login Apple.
* Fix UI Home page.
* Fix Item Post.
* Remove three column UI.
* Fix bugs and Optimize code.

V2.2.1 - Sep 18, 2020
* Upgrade to latest platform on iOS + Android.
* Change UI Login Page.
* Add Login Google + Facebook + Apple.
* Fix Header.
* Fix bugs and Optimize code.

V2.2.0 - Sep 17, 2020
* Optimize perfomance app, link with plugin wp-rest-cache, speedup x5
* Add popup notice missing Wordress plugins for fisrt installation
* Add UI for audio post format

V2.1.2 - Aug 30, 2020
* Fix bug
* Fix login
* Optimize code

V2.1.1 - Aug 17, 2020
Fix UI
Optimize code

V2.1.0 - Aug 17, 2020
Better settings module
Better Mobile Page builder
Improve performance, now the app run faster 15%
Mobile Onboarding screen: guide users through the app's interface and functions
Test the app directly with your website.
Fix minor layouts issues
Add comment features to the app

V2.0.0 - June 17, 2020
Better settings module
Better Mobile Page builder
Improve performance, now the app run faster 15%
Mobile Onboarding screen: guide users through the app's interface and functions
Test the app directly with your website.

V1.3.6 - May 06, 2020
New feature: Send Notification via OneSignal (https://onesignal.com)

V1.3.5 - May 05, 2020
Fix bug back on News detail
Change UI Homepage to origin UI
Optimize code

V1.3.4 - Mar 18, 2020
Fix send notification auto send when pubish post
Fix error special HTML characters on title

V1.3.3 - Mar 05, 2020
Custom tab homepage can show/hide on app
Add change language for app directly from setting web (now support 6 languages: EN, FR, PT, RU, ES,VN)
V1.3.2 - Feb 10, 2020
Support YouTube with format youtu.be
Add settings privacy + term and condition from backend plugin
Fix crash app when has multi-categories

V1.3 - December 27, 2019
Support page builder: WP Page builder + Elementor
Add common plugins: popular posts + related posts
Add rating module: generating and displaying interactive star ratings
Support common languages
Optimize app performance x2 speed

V1.2.4 - December 05,2019
Fix bug show no data when gallery is empty
Add Interstitial Admob for post detail page
String translation when the categories have no data

V1.2.3 - October 21,2019
Fix crash when open app on android >= 9. ***Hotfix
Fix bug featured image for video.
Remove slide of category.
Add category description.
Apply setting for lastest posts on homepage: user can select layouts: Left Thumb, Right Thumb,  Grid Thumb, Card Thumb

V1.2.0 - November 08, 2019
Change default image when load list posts.
Fix search function.
Fix scroll app to refresh on the home page.
Fix swiper action to delete bookmark items.
Add a gradient to layout two-column and carousel. 
Fix app performance.

V1.1.0 - October 21,2019
We fixed critical bugs regarding Wordress version > 4.7. If you are using this app before 17.11.2019, please have a look here: http://zinisoft.net/zapes/basic-app-setting/
Update video intro + video backend guideline.

V1.1.0 - October 02, 2019
Add Firebase Push Notification
Add AdMob
Add Firebase Crashlytic
Bookmark page: Add to favorite
Fix UI icon
Fix the ratio of thumbnails on the homepage

V1.0 - Release the initial version.
Home page: Show featured posts and latest posts by categories
Category page: Show list of post by: Grid, List, ...
Article page: View WordPress post content
Bookmark page: Add to favorite
Gallery page: Display gallery of images
Video page: View YouTube video on app.

SUPPORT
Item Purchase does not include:
1. Customization services 2. Installation services
Note: Due to Covid-19 Situation, we do have very limited support. There may be a delay in response or answering your questions. The average response time will be 48 to 72 hours. We are not available on Saturday and Sunday so we will not be able to answer your inquiry related to product and support.
Note: Before purchase please check the documentation. Related to Document if you have any questions please contact on zinisoft.net@gmail.com. Our support team will share the documentation and please make sure if you are okay with documentation then you purchase the product.
NOTE: Setting up an application doesn't include in the product price. You can do set up by yourself or can hire our technical person to do that for you but that will be a paid task.
PAID INSTALLATION
Don't know how to setup React Native Apps? don't worry, we'll do it for you. Installation and setup cost is just 100USD for both Android and iOS apps.
Eg:
Fonts customization
WordPress Logo
Android/iOS Logo
Splash Images
TheNounIcons for Icons
REFUND POLICY
Full refund can be given, if the system doesn't work as it is described, the issue caused by the code and can't be fixed in 48 hours. In most cases, if the source code doesn't work on your site, that caused by any of the following reasons:
outdated npm packages, that has an error in the background
hosting limitations or configuration issues
incorrect configuration
Before you send a refund request, please make sure you already contacted with the support here and provided your website URL. If Zapes – React Native mobile application for WordPress doesn't work as it described and the problem is with the plugin, that can't be fixed in 48 hours, then you can get a full refund.
If you refusing the free support and the issue can't be investigated, then you can't get a refund.
Thank you