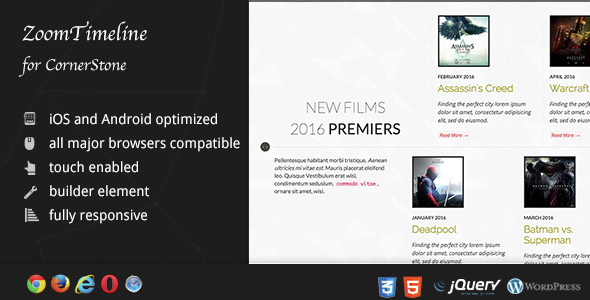 Ultimate Timeline Intro – top
Looking for a company timeline ? A shipping log ? Shipping history ? Personal History ? A cool timeline slider ? This plugin has it all. No matter the needs for a timeline, the six modes included cover all the timeline needs.
Awesome for – company timeline, time line, history, company history, shipping history, parcel track display, timeline slider.
ZoomTimeline Features
HTML5 technology – zoomtimeline uses the latest html5 tehniques ( like Histroy API ) to deliver a never seen before experience to your clients
fully responsive – looks great from mobile to HD
six modes – full skins to fit every brand
CSS3 technology – this player uses cutting-edge css3
SCSS Powered – easy for developers to modify
Retina-ready – graphics have double resolution for smooth retina viewing
Visual Composer ready – add timeline elements directly in Visual Composer
easy install – purchase, download the zip, read the docs
iPhone / iPad optimized – this gallery has been optimized for Apple touch devices
Android optimized – this component has been tested on Android 4.0 and works awesome
developer / SASS powered – this component's CSS has been built on top of SASS which means SASS users will have an easy time modifying the skins. For non-SASS users it's no problem either because CSS files ( generated by SASS ) are provided
100% css skinable – want to make slight modifications to the skins ? The skins are 100% built from the css and it is very easy to edit with css knowledge
SEO friendly – built with search engine optimization on mind from the ground up, the Testimonial Rotator uses non hidden valid html markup to build the widget
compatible with all major browsers, including IE – compatible from IE9 to IE11, Edge, Chrome, Safari and Firefox
FAQ
How to order items
We made ordering very easy. Just go to Timeline Items in the dashboard, click the category you are using, and you can arrange the items by dragging or using sort arrow
What about filtering by event type? Is there a way to group events by type and allow the user to select which type they want to see?
Each event has a category.
So yes, you can include timelines with different categories.
how to change text color
Go to zoomtimeline > Settings
and in extra css write
.zoomtimeline{
color:#fff;
}
how to change scrollbar color in mode-slider-variation
zoomtimeline settings > and in extra css enter

body .zoomtimeline .scroller-con.skin_luna .scrollbarx_bg{
background-color: #ff0000;
}
body .zoomtimeline .scroller-con.skin_luna .scrollbarx{
background-color: #00ff00;
}

Updates
For updating, disable and delete the previous version, and install the new downloaded one. Or just unpack the zip you get from the download and overwrite the previous folder from wp-content/plugins/ via FTP
UPDATE 1.51 [ 05/01/2018 ]
[FIX] fix a bug with yearslist always showing video
UPDATE 1.50 [ 03/08/2018 ]
[TWEAK] fixed some bugs
[TWEAK] reworked documentation
[ADD] now sample data is installed by default
UPDATE 1.50 [ 03/08/2018 ]
[TWEAK] fixed some bugs
[TWEAK] reworked documentation
[ADD] now sample data is installed by default
UPDATE 1.41 [ 05/24/2017 ]
[TWEAK] reworked extra html
[ADD] skin-light for mode-yearslist
UPDATE 1.40 [ 02/26/2017 ]
[ADD] awesome new interface for timeline items
[FIX] fix with mode-yearslist items without image
UPDATE 1.31 [ 11/29/2016 ]
[ADD] translations for italian ( italy ), german ( germany ) and french
[FIX] improved translation compatibility
UPDATE 1.30 [ 10/22/2016 ]
[ADD] option to change single timeline item permalink ( in Settings > Permalinks )
UPDATE 1.29 [ 10/13/2016 ]
[ADD] start_item option in shortcode
[ADD] color_highlight option in shortcode for mode-3dslider
UPDATE 1.28 [ 09/18/2016 ]
[ADD] options for item size in mode-3dslider
UPDATE 1.27 [ 07/21/2016 ]
[FIX] some fixes
[ADD] new disable title option for each timeline item
UPDATE 1.26 [ 07/06/2016 ]
[FIX] cool mobile scroll for mode-slider-alt
UPDATE 1.24 [ 05/03/2016 ]
[FIX] category not working for visual composer
UPDATE 1.23 [ 04/25/2016 ]
[ADD] shortcode option to place content at bottom for mode-slider-variation
[ADD] shortcode generator link in settings page
[ADD] readmore markup option in main settings
UPDATE 1.22 [ 03/14/2016 ]
[ADD] meta option to place some content underneath mode slider items
UPDATE 1.21 [ 03/06/2016 ]
[ADD] meta option to choose how gallery items will appear in the ZoomTimeline post
UPDATE 1.20 [ 02/11/2016 ]
[FIX] sample data slider
[ADD] individual option per item to overwrite date display
UPDATE 1.10 [ 02/01/2016 ]
[FIX] limited items on display
[TWEAK] added features and light skin to mode-slider
Icon made by Freepik from www.flaticon.com is licensed under CC BY 3.0
Other Great Plugins
Credits